The Great Australian Birding Adventure

Fifteen Utah birders spent two week along the east coast of Australia in August of 2001. This Australian Adventure is unique in the history of Utah field trips, in length, duration, food variety, lodging, and many other ways.
This is the 20th anniversary version complete with added photos.

Update of pages showing recently-hatched birds:
A feature article from a few years ago highlighted photos in our Photo Gallery of 35 species of recently hatched birds -- the cutest birds you'll ever see! The number is now up to 97 species (in 2021). Here are links to the updated pages.







Hanna Hummingbird Haven:

The 2021 "Hanna Hummingbird Haven" year has started at the cabin of Dena & Jim Reid in Hanna, Utah,. The Rufus males start leaving after the 1st week of August, so the end of June through July is the best time to visit . Visitors are welcome!
(Note: ."I need to remind people I do not have public restrooms available and that they need to visit the Hanna store at mile post 37 for those necessities.…I do not let anyone inside our home. And the river at the moment is fast , strong, and cold dangerous…")
(Here are two slow-motion videos by Paul Hunsaker: Video 1, Video 2)

Albino and Leucistic Birds:

Photos of a a leucistic Black-billed Magpie by Margaret Sloan have been added to go along with the Black-chinned Hummingbird photo by Neil Fellows added recently to our collection. Both of these birds were found in the Park City area. We now have at least 25 species in our "albino" collection.

eBird Links for our Birding Places:
There are description and directions to over 500 birding places on the Utah Birds website. We now have links to the eBird sightings for almost all of them, both in the "index of birding sites" and on the individual pages describing the places to bird found on the County Pages. Through each eBird link you can also find other eBird information for nearby places, by using the "Hotspot map," so once you've found one place you can easily find information for other places in the area.

Updated Utah Checklilst:
With the Mallard subspecies, Mexican Duck, being made a separate species by the AOS checklist committee (NACC), Utah now has a new species on its checklist. At the top of the checklist, you will find links to: a printable version, a Taxonamic list (with a PDF version), and an updated Review Species List (with a PDF version). Kenny Frisch suggested a couple of articles to help with the challenging ID: An article by Jack Bushog and a photo essay by Steve Mlodinowd
A warm welcome to Utah's 466th species!

Recent Reports of Unusual Birds: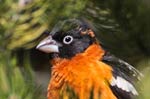 Several hybrids and a Black-headed Grosbeak with a bold white eye ring have been reported recently in Utah. Bryant Olsen sent in photos with a report of a female Baltimore Oriole x Bulock's Oriole hybrid that was nesting at the newly created Tracey Aviary Jordan River Nature Center. Photo's of a Black-headed Grosbeak with white eye rings in Cedar City was sent in by Jim Bruce. A report of probably the only Northern Mockingbird x Bendire's Thrasher x Northern Mockingbird hybrid ever reported in the wild was sent in by Mike Schijf and Photos of a Rose-breasted x Black-headed Grosbeak hybrid found at the mouth of Payson Canyon, were sent into the Photo Gallery by Cliff Miles.
(See the July UCB Newsletter for more details).

Feature Article:

Here's a series of pictures taken by Ernest Harlow of a Barn Swallow nest in Brigham City. This shows everything from eggs, to featherless hatchings, to downy chicks, to feathered chick ready to go, to the empty feather-lined nest.


Types of Bird Nests:

Many excellent photos of bird nests, birds nesting and young birds fresh from their nests, have been sent in by Utah photographers. A new article on "Bird Nests and Nesting Schemes" with some of these photos and information about eleven different types of nests or nesting schemes has been posted on our website. A big "thank you" to the photographers who have shared their photos with us.

Utah Winter Gull Identification:

At the October meeting of the Utah County Birders, Dennis Shirley gave a presentation on identifying "Utah Winter Gulls," which has now been adapted and expanded for the Utah Birds website. It's become a "work in process" and we'd like you to take a look and give us some feedback on how we can improve it -- and you may be able to learn to better identify the winter gulls in Utah at the same time.

Feature Article:

Ted Fitzgerald took photos of some nesting robins capturing a couple of fortuitous photos of the "fecal sac" phenomenon. Here's a link of the series from incubation to fledglings producing the "Next Generation of Robins."
Bird Humor:


Here are some links to the "Bird Humor" section of our feature pages:
- "Change is in the Air" (A stealthy Starling is up to something).
- "Mom's Favorite" (How you can tell you're NOT).
- "Snack-lifting " (A clever little gull is hooked on junk food).
- "Heavenly Smiley Faces" (Smiley faces are use in emails and...)