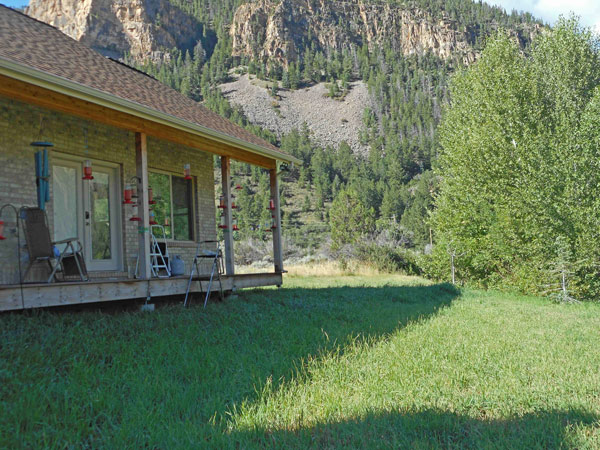 Deck near the river in Hanna, Utah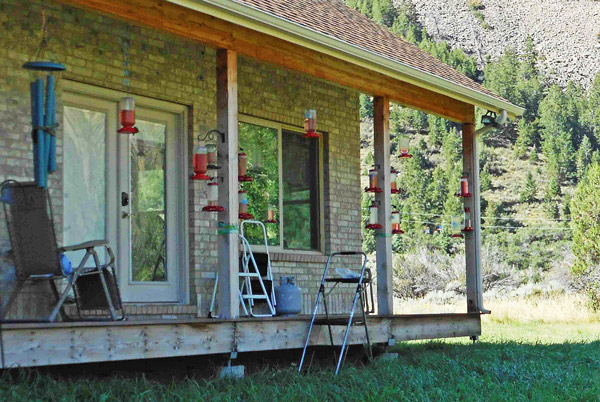 They fill 30 feeders with 9 gallons of nectar a day. [See calculations below]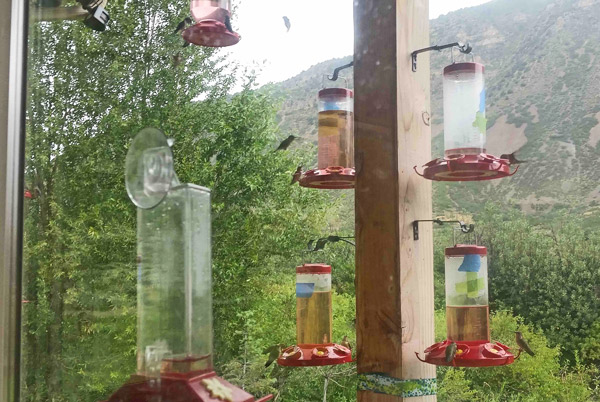 When hummingbirds have to wait, they buy a new feeder.
(The feeders have gradually gotten larger and more numerous).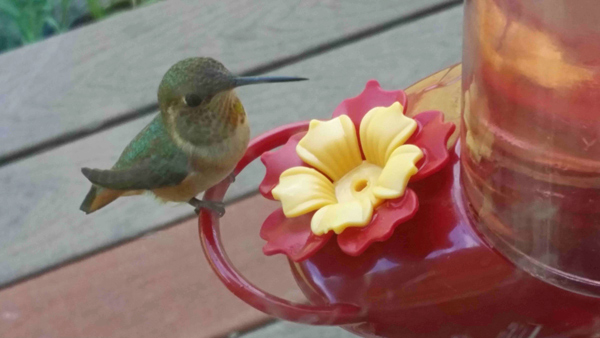 Sub-adult?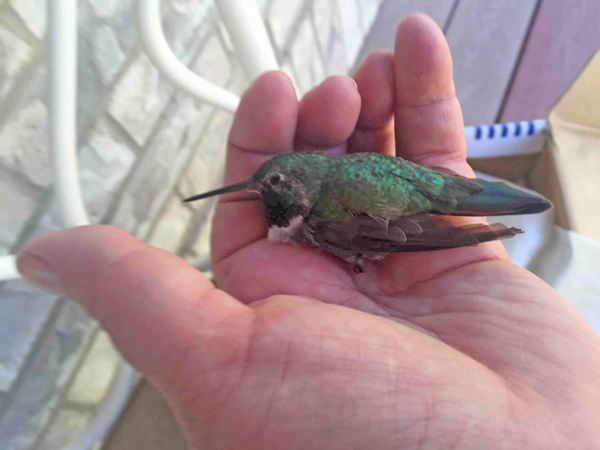 Sometimes they "run into things" and are injured,
but the are taken care of until they can fly.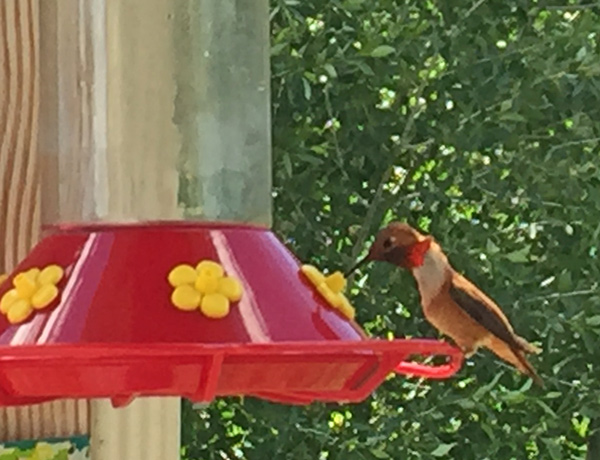 Male Rufous Hummingbird, alone at a feeder -- imagine that!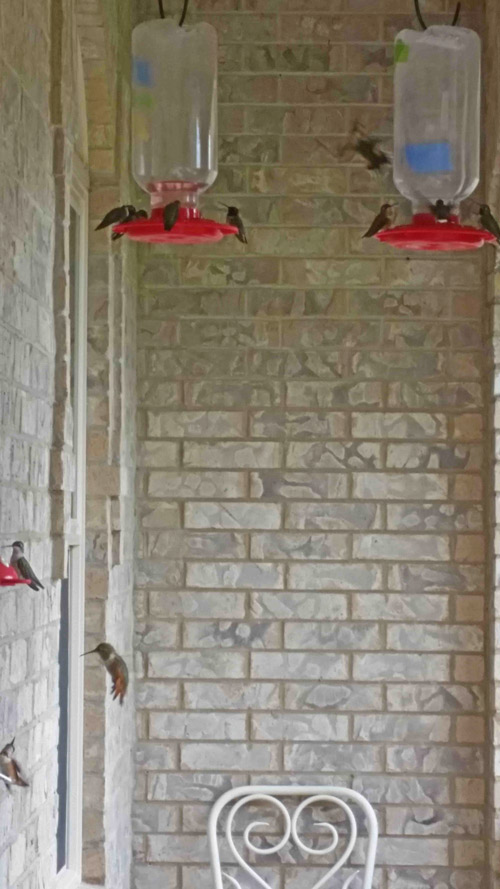 Front Porch -- have you ever seen larger feeders?!

---
Visitors are welcome!
This year Dena & Jim Reid sent this message and invitation: (in case you find yourself on State Road 35 between Wolf Creek Pass and Tabiona).
18 July 2016
... This is the hanna hummers Dena. Wanted you to know I have a lot again this year. They started about April 10 so of course i had to keep feeders from freezing. The rufus started about Fathers day. I wanted you to know that the article actually brought some birders over to see them. I was so excited to see them. Tell more to come at your meetings . I would really like for them to see. Please tell them they are welcome any time. If for some reason we are not here just tell them to walk to the deck and enjoy. I do not think I have quite as many as last yr. something caused them not to come back as much this year put I still have hundreds. I have up my gallon feeders now as they only last two days. I think I have 14 of those. Trying the new hummer bar this year too just for fun. I am so glad to share these beautiful birds. I also have some orioles coming to them so I put a couple feeders for them. Oh and some butterflies have been using them. too. Thanks so much for all your help. Reminder The brick house is Like mile marker 31 and 3/4 on state road 35. The south side.

Here's a view from above: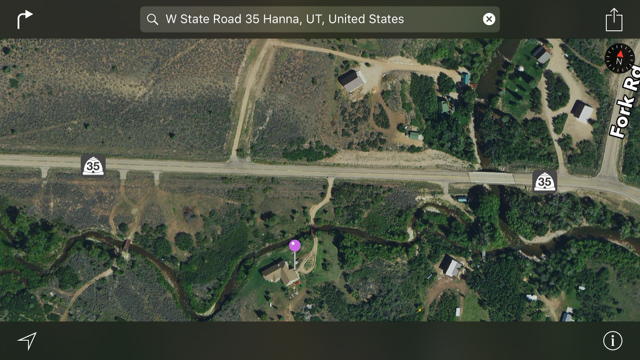 "It is just west of where you turn up north fork to go to defas or granddaddy lake. Just before
the bridge where the west fork and north fork meet to make the duchesne river."
Short Cut from SLC: Take I-80 going east past Park City to the junction of US 40 (US 189) going toward Heber and Vernal. Travel about 4 miles to UT 248 and go left (east) towards Kamas. When you get to UT 32 (just south of Kamas) turn right and go a couple of mile to Francis. At the main intersection take UT 35 which will go through Woodland, then over Wolf Creek Pass and down toward the Hummingbird Haven (at mile marker 31 3/4).

---
* Calculations:

Enough Nectar to feed about 850 average-sized hummingbirds a day!
(Orioles and other bird that might spill or drink some nectar not included)

- A hummingbird will drink about 12 time its body weight in nectar every day. (saturation: 4 parts water to 1 part sugar)
- Average Black-chinned Hummingbird weight = 3.2 gram (assuming that this is an average hummingbird at the feeders)
- Grams in 1 oz. of water = 28.3 grams
- Ounces in 9 gallons of nectar = 1152 oz.
12 x 3.2 = 38.4 grams of nectar per day per hummingbird
38.4 grams ¸ 28.3 grams = 1.36 oz. of nectar consumed per day per hummingbird
1152 oz. ¸ 1.36 oz./bird = 847 hummingbirds would consume 9 gallons of nectar per day

Article with the above information: http://www.hummingbirds.net/hainsworth.html

---
All photos above are by Dena Reid ęDena Reid