2020 Birders Challenge
Challenge intro and items
Challenge sheet
Newsletters & Articles
Newsletters
Field Trip Reports
Bird of the Month
Feature Articles
Special Reports
Hotline Sightings
Recent Sightings
Local email list (ucbirders)
Subscribe to other Utah Lists
Places to Bird
Utah County
Utah State
Birding & Birders
What we do
People to Contact
E-mail
ucbirders@utahbirds.org
The Utahbirds Website
Utahbirds.org
February Newsletter Facebook page
---
February Meeting:

Thursday, February20th, 2020, at 7pm (a different night than usual).
...at the Monte L. Bean Museum on the BYU Campus Map to Museum
Sam Braegger from the Utah Lake Commission will talk about some lake-related topics, Jake Holdaway, with the Walkara Way Conservation Project will give a quick overview and update on that project, and Melissa Stamp, with the Provo River Delta Restoration Project will present updates on that project. If you have questions about what's slated to happen with the Skipper Bay Trail and the restoration area around the mouth of the Provo River, now's your chance to ask them!

Upcoming Field Trips:
Saturday February 1, 2020
Gull Identification Clinic.
Those that sign up are just going to be meeting at the George S. and Delores Dore Eccles Wildliife Education Center at 9:45 am. It starts at 10:00 am. They will have the clinic first then those who want to go on a field trip to Farmington Bay WMA to put their skills to the test! It's a fun outing and really informative! Bring a lunch. Here is the link to sign up
If anyone wants to carpool we can meet at the Pioneer Crossing Park&Ride at 8:30am.

Friday February 21, 2020
Delta Snow Goose Festival.
We will meet at the Payson Walmart NE part of the parking lot close to the new construction of Quick Quack carwash at 8:00 am. We will carpool to Delta looking for birds along the way. We will hopefully get 20 species in a birding day, 20 species in Juab and Millard County., 20 species at a Utah Reservoir, and 20 species in a few cities or towns, and add to our 20 species of waterfowl! Helping complete #2, 4, 12, 13 and 16 for our 2020 challenge. Bring a lunch and plan on being home in the afternoon.

Field Trip Reports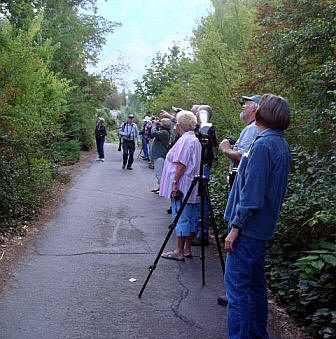 Nebo Bench Field Trip
14 Sep 2019, by Suzi Holt
River Lane / Sandy Beach Field Trip
12 Sep 2019, by Suzi Holt
Mirror Lake Highway Field Trip
20 Jul 2019, by Suzi Holt
Diamond Fork Canyon
20 Jul 2019, by Suzi Holt
Owling the Nebo Loop
11 Jul 2019, by Suzi Holt
Nebo Loop
11 Jul 2019, by Suzi Holt
Warm Springs WMA
13 Jun 2019,
Washington County Field Trip
31 May - 1 Jun 2019
Utah County Hotspots Field Trip
13 May 2019
Fish Springs NWR
19 & 20 Apr 2019
Waterfowl and Raptors!!!
2 Mar 2019
Delta Snow Goose Festival
23 Feb 2019
Gull Identification, ENC
2 Feb 2019
Payson Cemetery, Salem, etc.
18 Jan 2019
New Years Day - Utah County
1 Jan 2019


(and many more)