2018 Birders Challenge
Rules
Spreadsheet or PDF
Newsletters & Articles
Newsletters
Field Trip Reports
Bird of the Month
Feature Articles
Special Reports
Hotline Sightings
Recent Sightings
Local email list (ucbirders)
Subscribe to other Utah Lists
Places to Bird
Utah County
Utah State
Birding & Birders
What we do
People to Contact
E-mail
ucbirders@utahbirds.org
The Utahbirds Website
Utahbirds.org
---
August Meeting:

Our August meeting will be a potluck dinner on a different night than usual on Thursday Aug 22nd at 7pm at South Fork Park up Provo Canyon. Bring a food item to share.
We have reserved Pavilion #2 at South Fork Park. Hope to see you all there!

The address is: 4988 N South Fork RD, Provo, UT 84601

Directions: Take US-189 up Provo Canyon. The turnoff for South Fork is 5.8 miles from the mouth of the canyon on the right. Once you turn right, you will cross the railroad tracks and pass a small park and pond. South Fork park is 1.7 miles up South Fork road on the right. Park along the guard rail and we will be in pavilion 2.

Field Trip Reports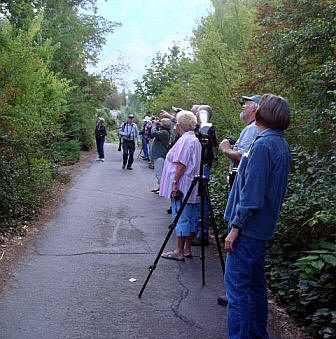 Warm Springs WMA
13 Jun 2019,
Washington County Field Trip
31 May - 1 Jun 2019
Utah County Hotspots Field Trip
13 May 2019
Fish Springs NWR
19 & 20 Apr 2019
Waterfowl and Raptors!!!
2 Mar 2019
Delta Snow Goose Festival
23 Feb 2019
Gull Identification, ENC
2 Feb 2019
Payson Cemetery, Salem, etc.
18 Jan 2019
New Years Day - Utah County
1 Jan 2019
Washington County
2,3 Nov 2018
Eccles Wildlife Education Ctr.
27 Oct 2018
Big Sit at Provo Airport dike
13 Oct 2018
Ante.ope Island
14 Sep 2018
Mirror Lake Hwy
24 Aug 2018

(and many more)