2020 Birders Challenge
Challenge intro and items
Challenge sheet
Newsletters & Articles
Newsletters
Field Trip Reports
Bird of the Month
Feature Articles
Special Reports
Hotline Sightings
Recent Sightings
Local email list (ucbirders)
Subscribe to other Utah Lists
Places to Bird
Utah County
Utah State
Birding & Birders
What we do
People to Contact
E-mail
ucbirders@utahbirds.org
The Utahbirds Website
Utahbirds.org
April Newsletter Facebook page
---
April Meeting:

Thursday, April 9th, 2020, from 5pm to bed time.
In light of our current stay at home orders, and in the interest of everyone's health and safety we will have no April meeting. Instead, I suggest a big backyard/neighborhood birding evening that everyone can join in remotely from their own homes.

Thursday, April 9, 5pm-bed time. Stay home, stay healthy backyard birding big evening.

See how many species you can see either from your house, or within your own neighborhood on Thursday evening. This can be watching feeders in your yard, or birding within half a mile (walking distance only!) of your house. If you do venture away from your home make sure you're maintaining good social distancing! Report your total number of species and any interesting finds either on Facebook or through our group listserve email ucbirders@googlegroups.com.


Upcoming Field Trips:
Enjoy birding on your own, maintaining the social distancing and guidelines issued by the governor of Utah.
Also you can enjoy this link:
The Audubon has put together a page called the Joy of Birds with lots of fun links to bird photos, articles, and science.

Field Trip Reports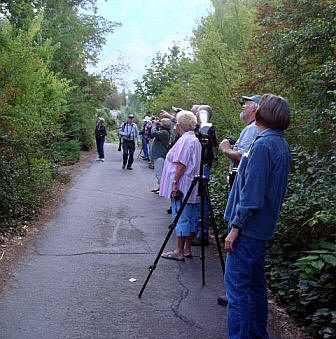 Delta Snow Goose Festival.
21 Feb 2020, by Suzi Holt
Gull ID Clinic and Gullstravaganza.
1 Feb 2020, by Suzi Holt
Twenty on 20th - Lee Kay Ponds
20 Jan 2020, by Leena Rogers
First Twenty for 2020.
1 Jan 2020, by Suzi Holt
Annual Wild Turkey Trot
23 Nov 2019, by Suzi Holt
Northeast Reservoirs Field Trip
26 Oct 2019, by Suzi Holt
Big Sit - Provo Airport Dike
12 Oct 2019, by Suzi Holt
Nebo Bench Field Trip
14 Sep 2019, by Suzi Holt
River Lane / Sandy Beach Field Trip
12 Sep 2019, by Suzi Holt
Mirror Lake Highway Field Trip
20 Jul 2019, by Suzi Holt
Diamond Fork Canyon
20 Jul 2019, by Suzi Holt
Owling the Nebo Loop
11 Jul 2019, by Suzi Holt
Nebo Loop
11 Jul 2019, by Suzi Holt
Warm Springs WMA
13 Jun 2019,
Washington County Field Trip
31 May - 1 Jun 2019

(and many more)