2018 Birders Challenge
Rules
Spreadsheet or PDF
Newsletters & Articles
Newsletters
Field Trip Reports
Bird of the Month
Feature Articles
Special Reports
Hotline Sightings
Recent Sightings
Local email list (ucbirders)
Subscribe to other Utah Lists
Places to Bird
Utah County
Utah State
Birding & Birders
What we do
People to Contact
E-mail
ucbirders@utahbirds.org
The Utahbirds Website
Utahbirds.org
November Newsletter Facebook page
---
November Meeting:

Thursday, Nov. 21st, 7 PM (Note: A different night than usual)
at the Monte L Bean Museum in Provo, UT Map to Museum
Danielle Finlayson, a graduate student at BYU, will give a presentation on her graduate work "Golden Eagle Use of Water Features in the West Desert of Utah". Danielle has been analyzing photos from a network of game cameras at various water sources across the west desert to learn how eagles and other species use water sources in the desert. Come learn about some of the cool things she's found and get close and personal with the golden eagles of the West Desert!

Upcoming Field Trips:
November 23rd, 8 am

A Wild Turkey Trot
Saturday November 23, 2019 meet at 8 am at Provo Sam's Club parking lot, north of the gas pumps. We will start at South Fork searching for gobblers! And then trot over to Diamond Fork, Loafer Canyon, Payson Canyon and Santaquin Canyon. We'll try to keep a running total on Facebook. Join us for part of it or come enjoy it all!

Field Trip Reports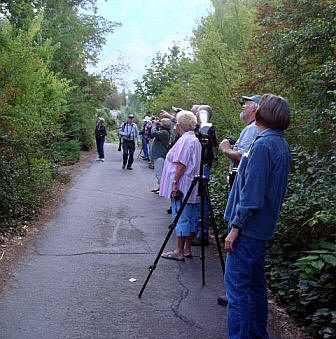 Nebo Bench Field Trip
14 Sep 2019, by Suzi Holt
River Lane / Sandy Beach Field Trip
12 Sep 2019, by Suzi Holt
Mirror Lake Highway Field Trip
20 Jul 2019, by Suzi Holt
Diamond Fork Canyon
20 Jul 2019, by Suzi Holt
Owling the Nebo Loop
11 Jul 2019, by Suzi Holt
Nebo Loop
11 Jul 2019, by Suzi Holt
Warm Springs WMA
13 Jun 2019,
Washington County Field Trip
31 May - 1 Jun 2019
Utah County Hotspots Field Trip
13 May 2019
Fish Springs NWR
19 & 20 Apr 2019
Waterfowl and Raptors!!!
2 Mar 2019
Delta Snow Goose Festival
23 Feb 2019
Gull Identification, ENC
2 Feb 2019
Payson Cemetery, Salem, etc.
18 Jan 2019
New Years Day - Utah County
1 Jan 2019


(and many more)