2018 Birders Challenge
Rules
Spreadsheet or PDF
Newsletters & Articles
Newsletters
Field Trip Reports
Bird of the Month
Feature Articles
Special Reports
Hotline Sightings
Recent Sightings
Local email list (ucbirders)
Subscribe to other Utah Lists
Places to Bird
Utah County
Utah State
Birding & Birders
What we do
People to Contact
E-mail
ucbirders@utahbirds.org
The Utahbirds Website
Utahbirds.org
December Newsletter Facebook page
---
December Meeting:

Thrusday, December 12th, 7 pm at the Bean Museum in Provo, UT
Map to Museum
We will have a fun bird ID quiz and hand out folders and assignments for the Provo Christmas Bird Count.

Upcoming Field Trips:
December 14th, All day
Provo Christmas Bird Count

Provo CBC will be Sat. Dec 14th. The tally and potluck dinner (bring something to share) will be at 6pm at the Utah County Health and Justice Building, 151 S. University Ave. Rm. 2500 (second floor). There's parking outside, or in the parking tower. Email Bryan Shirley at bt_shirley@hotmail.com to sign up for an area for the Provo count. Our December meeting will be a bird quiz to get ready for the count and to hand out the folders for the area assignments.
January 4th, All day
Payson Christmas Bird Count
The Payson CBC will be Saturday Jan 4th. Meet at 7:30 am at the Payson McDonalds for assignments. Contact Bryan Shirley for more information. 801-722-9346 or

Field Trip Reports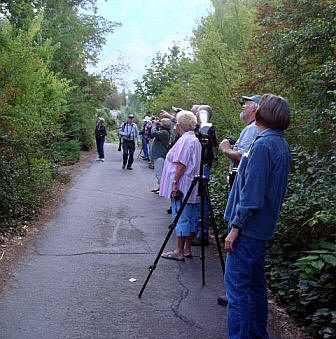 Nebo Bench Field Trip
14 Sep 2019, by Suzi Holt
River Lane / Sandy Beach Field Trip
12 Sep 2019, by Suzi Holt
Mirror Lake Highway Field Trip
20 Jul 2019, by Suzi Holt
Diamond Fork Canyon
20 Jul 2019, by Suzi Holt
Owling the Nebo Loop
11 Jul 2019, by Suzi Holt
Nebo Loop
11 Jul 2019, by Suzi Holt
Warm Springs WMA
13 Jun 2019,
Washington County Field Trip
31 May - 1 Jun 2019
Utah County Hotspots Field Trip
13 May 2019
Fish Springs NWR
19 & 20 Apr 2019
Waterfowl and Raptors!!!
2 Mar 2019
Delta Snow Goose Festival
23 Feb 2019
Gull Identification, ENC
2 Feb 2019
Payson Cemetery, Salem, etc.
18 Jan 2019
New Years Day - Utah County
1 Jan 2019


(and many more)