2018 Birders Challenge
Rules
Spreadsheet or PDF
Newsletters & Articles
Newsletters
Field Trip Reports
Bird of the Month
Feature Articles
Special Reports
Hotline Sightings
Recent Sightings
Local email list (ucbirders)
Subscribe to other Utah Lists
Places to Bird
Utah County
Utah State
Birding & Birders
What we do
People to Contact
E-mail
ucbirders@utahbirds.org
The Utahbirds Website
Utahbirds.org
---
October Meeting:

October 11, 2018, 7:00 PM at the Bean Museum on BYU Campus - Map

Lisa Thompson and Brian Fox from the Utah Museum of Natural History will be presenting on citizen science projects They are currently running and the iNaturalist program.

Upcoming Field Trips:
Big Sit!
October 13, 2018. Provo Airport Dike -- The BIG SIT is this Saturday, Oct 13th, from sun up until sun down (or longer for anyone who wants to try for owls in the dark). It's been a couple of years since we've participated, but I didn't want to let another year go by, so this weekend we will rejoin the tradition and host a count circle.
We'll be sitting at the southwest corner of the Provo Airport Dike from 7am until dark or until people don't want to sit anymore. Bring yourself, bring your friends, bring a chair, and come join us (snacks to share are always welcome too)!
Eccles Wildlife Education Center!!!!
Saturday Oct 27, 2018
We will meet at 8:30 @ the Pioneer Crossing park and ride and head to Farmington. We get a personal tour with Billy Fenimore!!!! Bring a lunch!suzi
Fall migration in ST.GEORGE!!!
Friday November 2nd, meet at 6:30 am at McDonald's on Bluff street. -chasing rarities with Kendall Watkins.
Saturday November 3rd, meet at 6:30 am at the McDonald's on Bluff street. We will be birding at Lytle ranch!!!

Field Trip Reports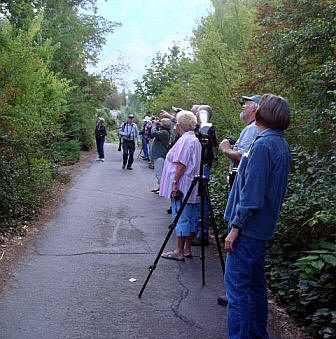 Mirror Lake Hwy
24 Aug 2018
Nebo Bench Trailhead
21 July 2018
Nebo Scenic Loop Owling
14 June 2018
Washington County
1-2 June 2018
Utah County Hotspots
14 May 2018
SF River Trail / Payson Hollow
5 May 2018
River Lane / Sandy Beach ...
14 Apr 2018
Emma Park Road / ...
24 Mar 2018
South Fork / Sundance
10 March 2018,
Delta Snow Goose Festival
24 February 2018
Alta Feeders
10 February 2018, by Suzi Holt
Salem Pond and Surroundings
20 January 2018
New Year's Day Birding
1 January 2018

(and more)