2018 Birders Challenge
Rules
Spreadsheet or PDF
Newsletters & Articles
Newsletters
Field Trip Reports
Bird of the Month
Feature Articles
Special Reports
Hotline Sightings
Recent Sightings
Local email list (ucbirders)
Subscribe to other Utah Lists
Places to Bird
Utah County
Utah State
Birding & Birders
What we do
People to Contact
E-mail
ucbirders@utahbirds.org
The Utahbirds Website
Utahbirds.org
---
September Meeting:
September 13th at 7 PM at the Bean Museum on the BYU Campus - Map

700 Species, by Bryan Shirley

For a lot of birders, seeing 700 species in ABA is a lifetime goal. Bryan Shirley recently reached that goal with a Black Rail in California. Come hear his report, hear about recent changes to ABA listing rules, and strategies on how to get your own list up to 700.

Upcoming Field Trips:
ANTELOPE ISLAND field trip
Friday September 14th: Antelope Island
Meet at the Pioneer Crossing park and ride at 6:30 am. We will bird the Causeway, Island, and Garr Ranch until around 2:30. Bring a lunch and a jacket. Bring a State Park pass if you have one, or plan to pay the entrance fee.
Migration Day at Squaw Peak
Saturday, September 22nd, 10 am to 2 pm
In-flight identification of birds of prey for all levels of raptor enthusiasts, with knowledgeable birders on hand. Here a link for details.

Field Trip Reports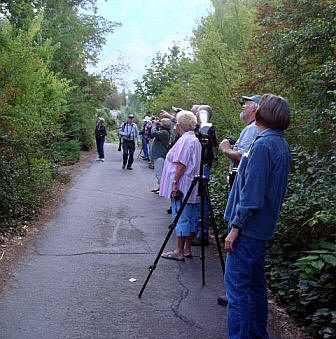 Mirror Lake Hwy
24 Aug 2018
Nebo Bench Trailhead
21 July 2018
Nebo Scenic Loop Owling
14 June 2018
Washington County
1-2 June 2018
Utah County Hotspots
14 May 2018
SF River Trail / Payson Hollow
5 May 2018
River Lane / Sandy Beach ...
14 Apr 2018
Emma Park Road / ...
24 Mar 2018
South Fork / Sundance
10 March 2018,
Delta Snow Goose Festival
24 February 2018
Alta Feeders
10 February 2018, by Suzi Holt
Salem Pond and Surroundings
20 January 2018
New Year's Day Birding
1 January 2018

(and more)