---
| General Information | Gull Identification | Immature Gulls | Key to Adult Gulls | Species List |

Western Gull (similar species)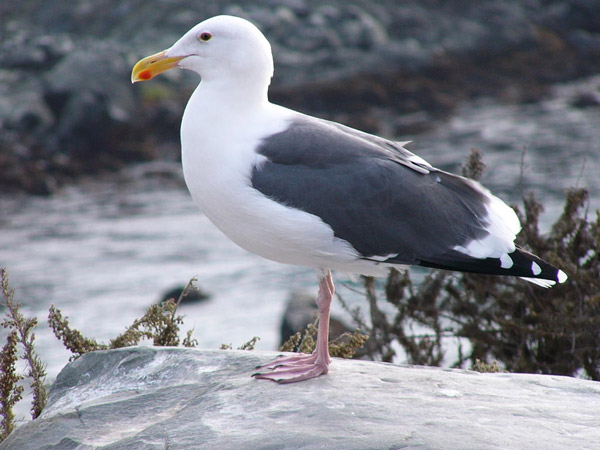 Adult Western - thick yellow bill, dark gray mantle, black wing tips, pink legs

Photo by Joel Beyer ©Joel Beyer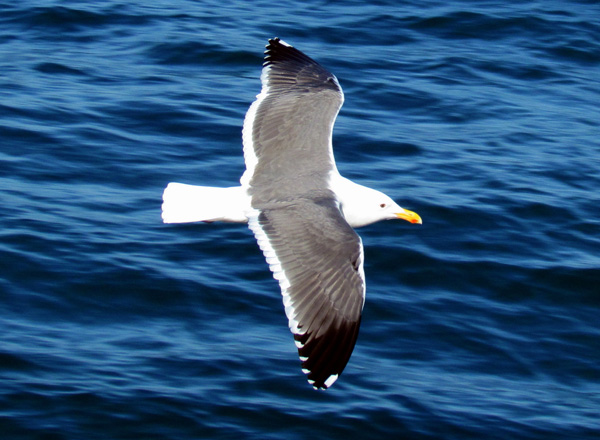 Adult Western - dark gray mantle that merges into black wing tips,
white tips on primaries, white trailing edge on the wings

by Ted Fitzgerald ©Ted Fitzgerald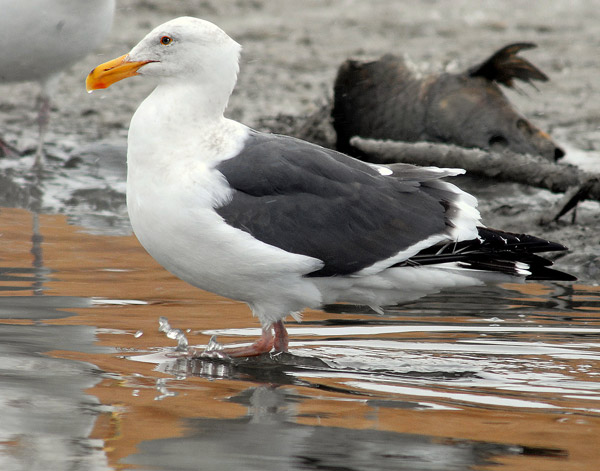 Winter Adult Western - the heads of the more northerly birds
are lightly marked with dusky coloring.

by Paul Higgins ©Paul Higgins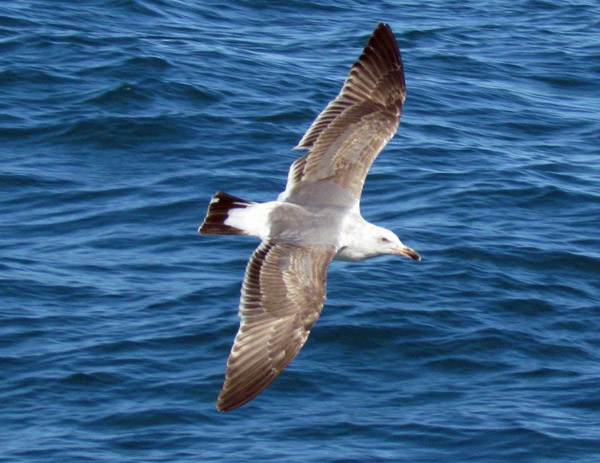 2nd Winter - some of the adult's gray mantle color on the back,
retain brown mottling on the wing coverts, bill lightens at the base

by Ted Fitzgerald ©Ted Fitzgerald

3rd Winter - black near tip of bill, dark mottling on head and chest,
shows black tail band in flight (no seen here)

by Lu Giddings ©Lu Giddings

---
Western Gull
Similar Species
Glaucous-winged Gull - is similar in all plumages to Westerns but is paler; Glaucous-winged's wing tips are never blackish; the adults show more mottling on head neck, and chest in the winter. Intergrades between Western and Glaucous-winged Gulls are abundant in Pacific Northwest.
Herring Gull - Adult Herring Gulls have more contrast between the mantle and the black wing tips; Herrings have a less bulbous bill and pale yellow eyes; Immature Herrings have paler wings and a slimmer bill.
Yellow-footed Gulls - have bright yellow legs and feet, darker mantle and deeper bill; first-years are whiter below; second-winter birds are similar to third-winter Westerns but have yellow legs and a black tail band.
1st
Winter Glaucous-winged - has paler mottling than Western Gull

Photo
by
Rick Fridell ©Rick Fridell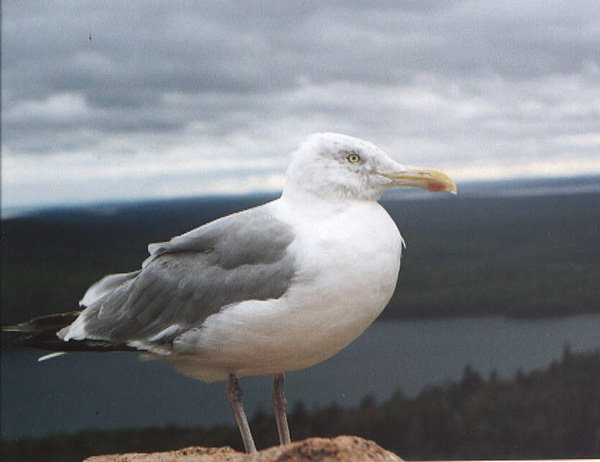 Adult Herring - has more contrast between mantle and black wing tips,
less bulbous bill, pale yellow eye
by Merrill Webb ©Merrill Webb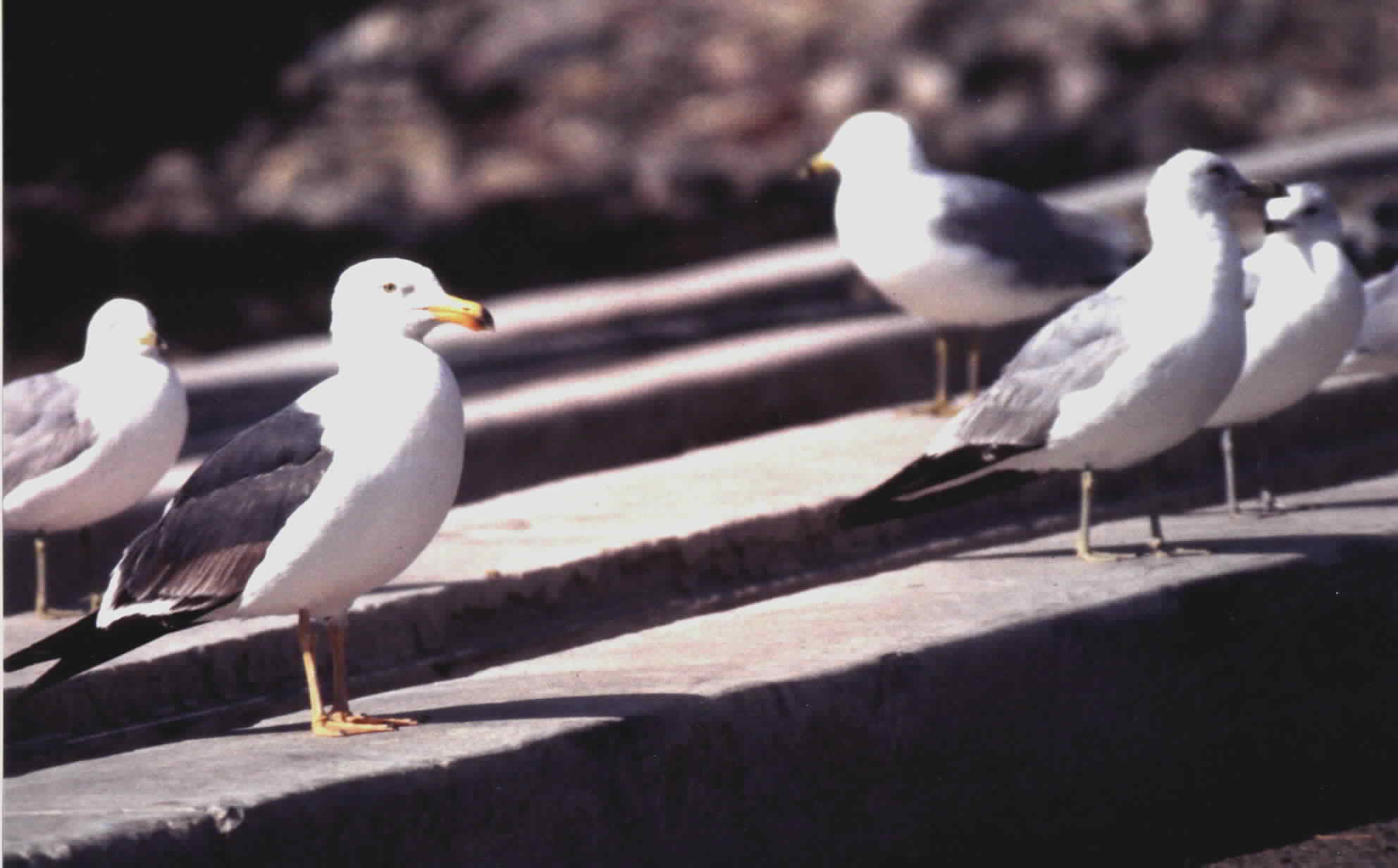 Yellow-footed Gull - has bright yellow legs and feet, darker mantle, deeper bill.
by Mark Stevenson ©Mark M. Stevenson