Popular Birding Places
Rich County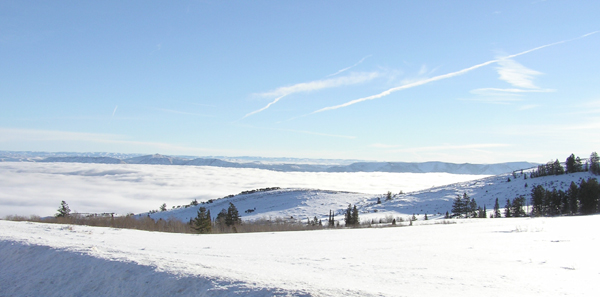 Bear Lake Valley

by Eric Huish ŠEric Huish

---
(To print a county map along with this information, go to the Print Center)
---

Directions: Go east on 200 North from Main Street (US 89) in Paris, Idaho and go to the bridge that crosses the Bear Lake Outlet Canal. Turn right immediately after the bridge and continue a few hundred yards to the refuge.
Details
---
Bear River Meadows (a.k.a. Randolph viewing area and Bear River Wetlands)


Directions: From UT 16, 1.5 miles north of Randolph, take Crawford Mountain Road going east about three miles through fields and farmland to the area around the Bear River with its oxbows, shallow ponds and wet meadows. (The road continues on into Wyoming and joins UT 30/WY 89).
Details
---

Directions: From the intersection by the "Rock Store" in the center of Laketown (just off UT 30, at the south end of Bear Lake) go west about 3 miles to a "T" in the road. Turn right going toward Meadowville (left going toward Round Valley) and go about a 100 yards to where the road crosses Big Creek.
Details
---
Birch Creek Reservoirs ~ submitted by Kristin Purdy


Directions: From Woodruff, proceed west 8-9 miles on UT 39. The unimproved road to Birch Creek Reservoir is a right (north) turn and located between mm 61 and 60. The road is marked by a low brown sign that indicates Public Camping, 1 mile. Drive the mile and park at the fenced area next to the old reservoir.,,
Details
---
Crawford Mountain Road See Bear River Meadows

---
Dairy Ridge and Eli Ridge Roads (accessed through Weber County)


Directions: Dairy Ridge and Eli Ridge Road are located on UT 39 between mile markers 45 and 46. To get there from I-15, exit the interstate at 347 and turn east on 12th Street, also named UT 39. Follow UT 39 through Ogden Canyon, along the south shore of Pineview Reservoir, and east of Huntsville. UT 39 proceeds due east of Huntsville and follows the South Fork of the Ogden River. Watch the mile markers count up. Dairy Ridge and Eli Ridge are served by the same sign and are just over the Cache Valley line. The road into the area may still be impassable due to snow late into spring. ~ Kris Purdy
---
Directions: The reservoir is located about 3 miles west of Randolph. The Old Canyon and New Canyon roads west of the reservoir can provide good birding.
eBird Data: | Bear River Meadows | Sage Creek Junction |

---
Monte Cristo Campground ~ submitted by Kris Purdy


Directions: Take SR-39 north and east from I-15 exit 344 in Ogden or pick it up at the intersection with SR-167 (end of Trapper's Loop) in Ogden Valley, Weber County. From Rich County, pick up SR-39 in Woodruff at the intersection with SR-16. Monte Cristo Campground is located on SR-39 at mile 47.7.
Details
---
---
Directions: Go 6 miles north of Sage Creek Junction and turn left on Six Mile Road. The reservoir is about a mile down the road.
eBird Data: | Sixmile Reservoir | Sage Creek Junction | Bear River Meadows |

---


E-mail: records@utahbirds.org