April 2020
Contents
Monthly Meeting
Upcoming Field Trips
President's Message
Bird of the Month
Field Trip Reports
---
Thursday, April 9th, 2020, from 5pm to bed time.
In light of our current stay at home orders, and in the interest of everyone's health and safety we will have no April meeting. Instead, I suggest a big backyard/neighborhood birding evening that everyone can join in remotely from their own homes.

Thursday, April 9, 5pm-bed time. Stay home, stay healthy backyard birding big evening.

See how many species you can see either from your house, or within your own neighborhood on Thursday evening. This can be watching feeders in your yard, or birding within half a mile (walking distance only!) of your house. If you do venture away from your home make sure you're maintaining good social distancing! Report your total number of species and any interesting finds either on Facebook or through our group listserve email ucbirders@googlegroups.com.
Also you can enjoy this link:
The Audubon has put together a page called the Joy of Birds with lots of fun links to bird photos, articles, and science.
---
Enjoy birding on your own, maintaining the social distancing and guidelines issued by the governor of Utah.

---
President's Message - April 2020

by Machelle Johnson

So, here we are in quarantine, Stay Home, Stay Safe. What are you doing to stay positive and busy? Are you working from home, still able to go in to work, not working but wish you were? Working but wish you weren't??

Things are changing every day due to the corona virus. Please do all that you can protect yourself and others during this time. We are advised by our Governor to stay at home, we are advised that State Parks are open for now but only for those who live in the county the park is in. We're gonna have to get creative for birding now!.

There are still many things that we can do, even while practicing social distancing, for the 2020 challenge, here is a link to the challenge in case you still need it: 2020 Challenge (pdf)

#8 - Bird your yard for 20 minutes on 20 different days

#9 - See 20 species at 20 National Forests areas or Wildlife Refuges. It may be awhile before you can visit these areas, but here is some information on where they are:
---
Black-chinned Hummingbird (Archilochus alexandri)

by Tori Shirley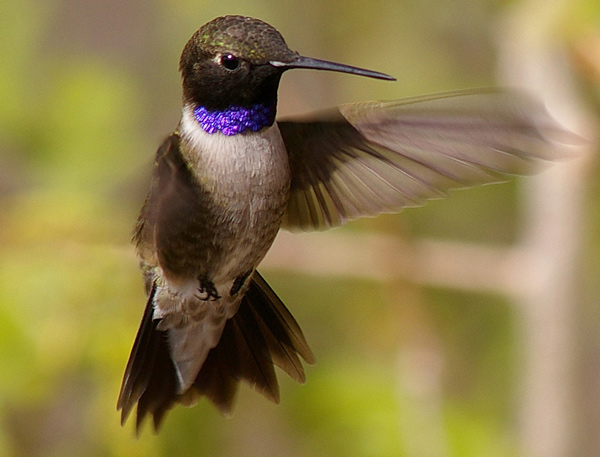 Black-chinned Hummingbird - male
Black-chinned Hummingbirds live in multiple habitats from central Mexico to the south-western corner of Canada. In Utah they are common in low lands and low mountains. Male Black-chinned Hummingbirds have an especially dark colored band around their necks and sometimes when light hits directly it seems purple or dark amethyst. Female Black-chinned Hummingbirds have no band around their necks. Both are a dull green color on their backs and have a medium to long, slightly decurved bill. Their song is rarely ever heard, but when heard it sounds like a high pitched warble. Their call is a soft tchew. This species was named in 1846 in honor of its discoverer, Dr. Alexandre of Mexico. These birds are migratory. Like most Hummingbirds they have about 1,000 feathers, they eat five to eight times in one hour, and can fly in any direction including upside down or can hover. Black-chinned Hummingbirds are tolerant of human activity and will come to bird feeders with sugar water. They also eat small insects.
I like Black-chinned Hummingbirds because I love hummingbirds and Black-chinned Hummingbirds are common at my house. I haven't seen one yet this year, but me and my dad looked at Ebird and they arrive in Utah County around April 19th (my birthday!) and April 26th. By the way, they leave Utah County around the end of September. According to Ebird, Suzi Holt has the latest record of them being in Utah County on October 12th. Spring is on its way so keep your eyes out for these speedy little birds!

---

Utah Bird Checklist Update

The Utah Bird Records Committee has modified the code system and updated the Utah Bird Checklist so it's up-to-date.
The code system for the Bird Checklist for Utah has been simplified removing the "Fairly Common" and the "Irregular" categories from the "Abundance Codes" and "Provisional species" and the "Northern Utah" designations for the Status Codes. All codes were reviewed and updated where appropriate.. The names and order of the birds are according latest version of the American Ornithological Society checklist.

Since the 2018 checklist, four new species (Pacific-slope Flycatcher, Dusky-capped flycatcher, Blue-footed Booby and Great Black-backed Gull) have been added to the checklist and one has been removed because of a species merge. (Thayer's Gull is now a subspecies of Iceland Gull), making a total of 465 species on this checklist.
The following versions and related lists are available:
- Website Version
- Printable Version (pdf)
- Taxonomic List (pdf)
- Review Species List
- Auxiliary Lists
* The DWR was planning to publish a checklist in time for the Utah Lake Festival, but there is no word if that has changed because of the pandemic. You can check at the main building of the Utah Lake SP to see if the checklists are available.
---