I find myself thinking about all the incredible birds I would love to see if I could travel. Imagine seeing a wild ostrich in Africa, or the ancestors of the domesticated chicken in India, the Kiwi of New Zealand or the various populations of penguins in Argentina or Antarctica. Maybe a phoenix if I were visiting Hogwarts (as long as I'm dreaming, right?). There are amazing birds with all kinds of amazing adaptations living all over the world.

Thinking of these birds I can sometimes forget how amazing the birds are that I can find locally. Birds that if I lived in Africa or New Zealand (or Hogwarts) I would be dreaming of one day seeing. I am talking about a group of birds that can only be found in the Americas. Our own unique and incredible hummingbirds.

Of the over 300 species of Hummingbird only 17 live in North America, and only 4 (maybe 5) are very common to Utah.

Hummingbirds are known for being small, much like my wife. The smallest bird in the world is the Bee Hummingbird topping out at a little over two inches, my wife tops out at five feet. Hummingbirds have to be small for their mode of flight to work, my wife, well she can't fly but it is fun to watch her try.

In some ways those little hummers are giants. Hummingbirds have a bigger hippocampus than any other bird. Some have a hippocampus as much as 10 times larger than birds with comparable brain size. (For clarification the hippocampus is a part of the brain, not a place where hippopotamuses gather for higher learning.) The hippocampus in the brain deals with memory, especially spatial memory, and helps a hummingbird remember feeding grounds and flowering times. This includes remembering places that put up feeders and when people put them out.

Hummingbirds are not long lived. Most hummingbirds live an average of 3-5 years, but the record recorded life span was a Broad-tailed Hummingbird that was tagged in 1976 in Colorado and later observed in 1987 making this particular hummingbird over 12 years old.

A Broad-tailed Hummingbird has a heart that beats an average of 1,200 times a minute. That is 20 times a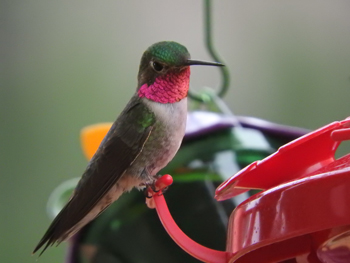 Male Broad-tailed Hummingbird
second, or 72,000 times an hour if you want to go the other way. They weigh only 2-3 grams, roughly the weight of a penny. It takes five Broad-tailed Hummingbirds to equal the weight of one Black-capped Chickadee. It would take 1,170,000 Broad-tailed Hummingbirds to equal the weight of a Hummer automobile.
A third of a hummingbird's weight is in its massive chest muscles that it uses for flight. It needs such massive muscles to keep those wings beating an impressive 40-50 times a second. Their wings are also built differently than other birds. The Humerus, Radius, and Ulna bones in most birds are elongated (these bones are like the arm in a human) while the Metacarpus, Phalanx and Ulnare bones are relatively small (think hands for a human reference). This is just the opposite for a hummingbird. They fly with tiny "arms" and huge "hands." It amuses me to think of them going around flapping their hands really fast.
Male Broad-tailed Hummingbirds have special outer primary feathers that produce a trilling sound. They gradually wear down over time and the trill fades over time to be inaudible by midwinter. They are molted and regrown before the next breeding season.
Broad-tailed Hummingbirds reside up in the mountains where temperatures can dip below freezing during the night. If the temperature goes lower than 44 degrees they will enter a state of torpor and lower their own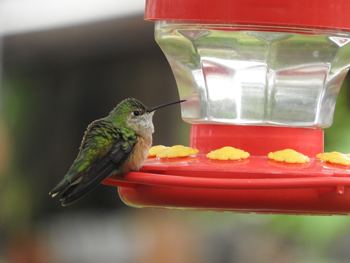 Female Broad-tailed Hummingbird
temperature to about 54 degrees. Hummingbirds typically regulate their temperature to be just a little above 100 degrees while awake. Their heartbeat also slows from 1200 beats per minute to roughly 50 while in torpor. This is less than 1 beat per second, or 3000 per hour if you want to go the other way. Female Broad-taileds will take advantage of the insulation of their nests to conserve heat while male Broad-tailed Hummingbirds will fly higher up the mountain out of the cold pockets that collect lower down saving their energy by as much as 15 percent. Personally I think the real reason for the nightly migration is that males keep "man caves" up there and just use the cold as an excuse to get away and watch sports, but this particular theory does not seem to be supported by science, or common sense.
The females build nests on horizontal branches in trees anywhere from eye level to about 20 feet high. They build nests out of plant material and spider silk and then cover the outside with moss, bark, and lichen to help
camouflage it. Building the nest out of such material allows it to be flexible and expand with growing young. They probably need the extra room because the young can't keep their space clean and half the nest ends up being toys that they refuse to pick up. The tiny eggs, they usually lay two, incubate for about 16 days, then from hatching to first flight is generally about 3 weeks. It is possible that this process is so quick because the mom is just fed up with picking up those toys and can't wait to have them out of the nest.
A number of species of hummingbirds have been found to intentionally nest near hawks. They do this as a way to protect their eggs and chicks. When hawks are nearby jays and other egg or chick stealing birds tend to perch higher, hopefully out of the line of sight of the raptors. Since hummingbirds nest lower than the hawks it keeps the birds away that would do them the most harm. It also keeps down the number of solicitors they have to deal with.
Broad-tailed Hummingbirds typically breed at elevations up to 10,500 feet. They can visit the valley but you will have more luck finding them up in the hills and mountains. They arrive in Utah County starting in April and leave by mid-October, but peak times to see them are May through August. If you want to find one in the middle of winter in Utah try the Bean Museum on BYU campus, they might have one, but no guarantees.
Broad-tailed Hummingbirds are probably the second most commonly seen hummingbird in Utah. Down in the valley we typically get Black-chinned Hummingbirds to our feeders but we can get the occasional Rufous and Broad-tailed as well. Here are some key points to help you identify them in the wild.
The easiest way is to listen. The loud trill produced by the male of the species during mating season is very distinct and plenty loud. You will often hear the bird before seeing it. The male also has a beautiful rose pink or rose red gorget when seen in the right light. The female gorget is often white, flecked with bronzy green, but they may have a few of those rose red spots as well. They are also considered big headed for a hummingbird (that is a physical trait, not a personality judgement). There may be some blush color along the flanks of the bird and some rufus in the tail. The Broad-tailed Hummingbird also has a complete eyering and often a little white line under the eye, but those field marks can be hard to see sometimes.
As with most birds individual hummingbirds may vary so it is good to identify them based on a number of field characteristics rather than just one. Except for that trill. If you hear that you are pretty much good. Or that rose-red gorget, that is also a clincher. Okay, basically if you see a female then try to use a number of field characteristics. The males flaunt their identity.
If you want to bring hummingbirds to you a hummingbird feeder is a great way to attract these birds. While we typically get Black-chinned at our place we see a few Broad-tailed and Rufous Hummingbirds as well. When choosing a feeder here are a couple of things you might think about. Feeders should be cleaned regularly. The sugar water "nectar" is susceptible to growing mold or fungus that can cause a hummingbird's tongue to swell rendering it incapable of eating. This condition is called Hummers Candidiasis and it is horrible. The hotter the weather the more often the "nectar" should be changed and the feeder cleaned. Because of all this cleaning it is nice to get a feeder that can be taken apart and cleaned easily. If the neck of the feeder is narrow use a bottle brush to get it done. Quoting one of my books, which quoted another person they identified as 'someone,' "Hummingbirds like any color, as long as it's red." The jury is still out on whether or not red food dye in hummingbird "nectar" is harmful to them, but considering the red coloring on almost all hummingbird feeders is enough to attract them alone there is really no reason to risk it. To make hummingbird "nectar" boil one part sugar to four parts water. Boil the water and add the sugar. Stir until the sugar is dissolved. Allow it to cool to room temperature before adding it to the feeder. Do not let your kids drink it. Trust me. If you make a large batch extra can be stored in the fridge until needed.
Of course if you don't want to be cleaning a feeder all the time consider planting some flowers. The Backyard Bird Feeder's Bible has thirteen species it claims are all but guaranteed to bring in the Hummingbirds. Of those the Penstemons and many of the salvias do well in Utah. When making your final decision on what to plant, remember that not all flowers produce a lot of nectar, even if they are red, and you can only fool those hummingbirds for so long before they abandon you.
So on those days when you miss the odd Blue-footed Booby or Fulvous Whistling Duck that may pass through Utah remember that even some of our more common birds are the envy of birders worldwide.
One of which is a bird that one 16th century Spaniard found so unreal he "would not dare tell of it if others had not seen them also…"
(That bird was a hummingbird in case you weren't following that from the rest of the article.)

Books
Birds of Utah, Stan Tekiela, Aventure Publications, Inc, 2003
The Genius of Birds, Jennifer Ackerman, Penguin Books, 2016
Zoobooks Hummingbirds, Timothy Levi Biel and Marjorie Betts Shaw, Wildlife Education Ltd, 2001, Volume 18 Number 4
Backyard Birdfeeder's Bible, Sally Roth, Rodale, 2000