Utah County Birders Newsletter
May 2010
Contents
May Meeting
Upcoming Field Trips
Ned's Notes
Bird of the Month
Backyard Bird of the Month
April Hotline Highlights

---
MAY MEETING:
Thursday, May 13, 2010

UCB Meeting / Evening Fieldtrip - Meet at Bean Museum at 7:00 p.m. Bring Binoculars and Field Guides!! - We will meet for just a few minutes and then depart for Rock Canyon for a field trip. We'll look for recent spring arrivals. Park just below the mouth of the canyon (not in the north side of the park where all the picnic areas are).

---
Beginning birders and nonmembers are welcome.

May 13-17, 2010: GSL Bird Festival. Details TBA but preliminary information may be found at http://www.greatsaltlakebirdfest.com/.
June 2010: Antelope Island - in search of grasshopper sparrows and other specialties. Details TBA.
June 24-25, 2010: Great Basin National Park. Plan to arrive at headquarters at 10:30 24 June. Camp at Lower Lehman Creek the night of 24 June. Contact Flora Duncan at fmduncan@hotmail.com for further information.

We are actively recruiting people to lead local half-day field trips, any time, any place. If you would like to lead a field trip or if you have any ideas for this year's field trips, please contact Lu Giddings at - seldom74@xmission.com.

---

Ned's Notes

By Ned Hill – President, Utah County Birders
"Birding In Ecuador—Part 4: Bella Vista for Mountain Toucans and Another Quetzal"
Note: This is the fourth installment of the report of a birding adventure Ned Hill and three others took with guide Rudy Gelis to northern Ecuador, November 2008, where they saw 500 species. This is only a sampling of the species and places the group experienced.

A few years before the present trip to Ecuador, I had the opportunity of visiting Quito on behalf of BYU. When I concluded my official meetings in the city on a Friday evening, I asked my hosts if I could possibly see some wild birds around Quito on Saturday before my flight left later that night. Fortunately, my host turned out to have a birder son (and he was an MBA student at BYU—small world!). He knew exactly where I could go to find a good sampling of Ecuadorian birds in just one day: Bella Vista (pronounced "bay'a vee'sta") just a 90-minute drive from Quito. Although I was only in the Bella Vista area for about eight hours, this is the place we got to see 20 species of hummingbirds in just one hour plus many other foothill species—just enough to whet one's appetite for a return trip.
So on our fourth day in the field I was delighted to be returning with Daniel and Rudy to this same verdant, mountainous area. As we left the Septimo Paraiso Lodge just at sun-up, Rudy excitedly pointed to a bird on a branch right over our car—a difficult to find Streak-capped Treehunter (one of those stealthy "ovenbirds"). In vain we tried to find the calling Wattled Guan before pulling out of the parking area in the morning mist.

Climbing in elevation on a dirt road, we came to a field surrounded by tall trees. Here we spotted a striking Southern Yellow Grosbeak and two tanagers: Capped Conebill and the beautiful Blue-winged Mountain Tanager. While enjoying these finds, Daniel's sharp eyes spotted the movement of a medium sized bird across the field. After much work, Rudy finally got the scope on our second Quetzal species of the trip, the spectacular Crested Quetzal. There are six species of quetzal, the most famous being the Resplendent Quetzal of Central America. Many Utah County Birders saw that species on tours to Costa Rica with Bryan and Dennis Shirley. That's the Quetzal with the 3-foot long tail. The Crested lacks the long tail but has an emerald back, wings and crest all surrounding a brilliantly red belly. Further on up the mountain we heard one of those impossible-to-find tapaculos—Spillman's this time. Its "song" sounds like a teapot starting to boil—its staccato notes getting faster and faster and higher and higher. So close—but so impossible to see! Then we heard something that really excited Rudy—the loud, nasal call of the Plate-billed Mountain-Toucan—one of the "signature" birds of the western Andean foothills. This incredible bird is colored blue, yellow, red, green, brown and black! In fact, it's on the cover of our field guide The Birds of Ecuador. We were fortunate to see several of them cavorting above our heads by the side of the road. I had missed that bird in my previous visit to Bella Vista.

Bella Vista is a small lodge, restaurant, gift shop and research station. When Rudy decided to go into birding over a dozen years ago, he first volunteered his services for many months at the research station. He has many fond memories of his time in these mountains and knows them like the back of his hand. As he was showing us his old living quarters, we spotted a large woodpecker on a nearby tree and were able to identify it as the appropriately named but scarce Powerful Woodpecker. High in the trees we saw the unusually patterned Beryl-spangled Tanager and a very striking Green-and-black Fruiteater. In a clump of bushes Rudy found for us a Streak-necked Flycatcher pair feeding three young flycatchers. I've never seen anyone as adept as Rudy in finding nesting birds. He has the gift to sense when a bird is caring for young and then follows it to a hidden nest. No wonder he has been able to write so many articles on nesting behavior of tropical birds.
We paused for a delicious lunch at the lodge where we were surrounded by trees and hummingbird feeders. A large, chicken-sized Sickle-winged Guan posed right outside our window and the feeders were busy with many hummingbird species such as Green and Sparkling Violet-ear, Andean Emerald, Collared Inca, Buff-tailed Coronet, Gorgeted Sunangel, Booted Racket-tail, and Violet-tailed Sylph. Then the rain started in earnest. In our raingear we walked up the trail to a point overlooking the compost pile. Sometimes birds comb through the compost for worms and other goodies. We were fortunate to see one such scavenger—the rare White-throated Quail-Dove. The increasing rainstorm caused us to shorten our stay at Bella Vista and head down the mountain towards Quito in the late afternoon. The narrow, winding dirt road we took was, until a few years ago, the only road between Quito and the west coast. So it had to bear a heavy load of truck, bus and car traffic until the modern, paved two-lane highway was built. It's difficult to imagine how such a dirt road—cut into a steep, forested hillside—could handle such traffic safely. Maybe it wasn't so safe!
As we approached Quito, we passed Mitad del Mundo ("Center of the World"), a park through which the equator passes. When I was in Quito before, we got to stand astride a bold yellow line in the sidewalk with one foot in the northern hemisphere and the other in the southern. It was rush hour traffic so it took us a while to get through the downtown streets of this sprawling metropolis of 1.5 million people. Tall mountains (most of them volcanic) surround the city. I remember that a few years ago all flights into and out of the airport were cancelled for several weeks because of ash clouds from an erupting volcano—much like the problem Iceland and, therefore, Europe are having now. We finally reached our small hotel where we learned that Rich Vial would be late in arriving and Robert Parsons (Daniel's father) would not be arriving at all tonight. His flight was diverted to Guayaquil down on the west coast of Ecuador; he would have to try to fly up to Quito tomorrow morning to join us. We enjoyed an excellent dinner, updated our growing bird list, and began looking forward to the next phase of our adventure, the High Andes and the Eastern Foothills.
Next: Papallacta Pass and the Guango Lodge—The Eastern Andean Foothills

---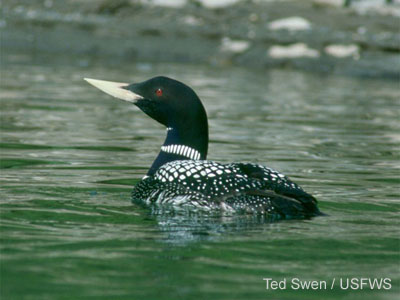 photo by Leila Ogden
Yellow-billed Loon
Gavia adamsii
by Kathy Knaus

The Yellow-billed Loon is the largest of its species and has the northernmost range of any loon. It is uncommon to see one south of Canada, where in the winter they reside on the west coast. A rare, casual or accidental sighting can be seen elsewhere in the winter, as one was spotted on a reservoir at this year's birding festival in St. George. An occasional one has been spotted as far south as Arizona. Swimming with its head tilted slightly upward, this bird will sometimes carry its young on its back. Breeding and non-breeding plumages are similar to those of the Common Loon. Winter plumage shows a tan crown with a white face and dark ear patch. The bill, pale ivory to straw-yellow in any plumage, is its most distinguishing feature.

The Yellow-billed Loon, like others of its species, never spends time on land except to nest. Loons become airborne by "running" on the surfaces of a large stretch of water and cannot take off from land. During the breeding season Yellow-billed Loons are strongly territorial, excluding other loons and diving waterfowl from their territories. They nest on large lakes in the high arctic tundra. Both male and female build the nest, usually a mound of muddy tundra vegetation with a central depression. The nest is hidden by surrounding vegetation and is often reused from year to year. The female will lay 2 eggs and both parents will incubate. The young leave the nest one or two days after hatching.

The common name "loon" comes from the Scandinavian word lom , meaning "lame," describing the birds floppy helplessness on land but failing to point out its highly specialized aquatic prowess, equaled only by penguins as swimmers and divers.

The Yellow-billed Loon (Gavia adamsii) is named after Dr. Edward Adams, a member of the search party for Sir John Franklin, whose ship and crew were lost in 1847 as they were looking for the elusive Northwest Passage. Dr. Adams may have found many birds on his search but never found Sir John and his crew.

Editor's note: To view photos of Yellow-billed Loons in breeding and non-breeding plumage, go to
http://utahbirds.org/birdsofutah/PhotoIndex.html then click on Yellow-billed Loon.
Click here for past 'Birds of the Month'.


---
April 2010

Steve Carr - Holladay
Lazuli Bunting - Turquoise-blue brightening up the yard.

Leila Ogden - Orem
A Scrub Jay squawks at me every morning until I give him a few peanuts (in the shell). Sometimes I find them hidden under things in my yard. He will come very close, but so far has not taken a peanut from my hand.

Eric Huish - Pleasant Grove
Say's Phoebe - yard lifer #96

Milt Moody - Provo
I had two male Lazuli Buntings show up in my yard.

Bonnie Williams - Mapleton
Green-tailed Towhee

Cheryl Peterson - Provo
Sage Thrasher - yard bird #68
It is a good thing I was out flying a kite with my grandson or I would have missed it.




Report your favorite backyard bird each month to Cheryl Peterson at 801-375-1914 or CherylPeterson@gmail.com

---
2010 Dues

Hey, the new year is here!! Thanks to all who have supported us in the past. If you are interested in officially joining us this year, make out a check to Utah County Birders for $15.00 and mail it to:

Carol Nelson
2831 Marrcrest West
Provo, Utah 84604

You will be helping to support the web page and we will send you a copy of the newsletter.