Utah County Birders Newsletter
January 2009
Contents
January Meeting
Upcoming Field Trips
Merrill's Musings
New UCB Officers
New UCB President
Bird of the Month
Birding in Florida
December Hotline Highlights
---
JANUARY MEETING:
Thursday, January 8th.
Tom Williams will make an illustrated presentation on "Birds and Their Namesakes."
Most birders are aware that Lewis's Woodpecker and Clark's Grebe derive their names from the explorers Lewis and Clark. But what about Cassin's Finch, Wilson's Phalarope, Nuttall's Woodpecker, and Baird's Sparrow? Learn for whom these and other birds were named and the part those scientists and adventurers played in the history of American ornithology.

Meet at 7:00 PM in the Bean Museum Auditorium on the BYU Campus.

---
January 2009: Friday 1/30 - Sunday 2/1: St. George Winter Bird Festival - Make your own travel and lodging arrangements. Click here for a Festival Brochure

We are actively recruiting people to lead local half-day field trips, any time, any place. If you would like to lead a field trip or if you have any ideas for this year's field trips, please contact Lu Giddings at - seldom74@xmission.com.

---
Merrill's Musings
By Merrill Webb
New Year's Day in Panama.

Greetings from Panama. We started off New Year's Day at Canopy Tower, north of Panama City. The first birds were: Blue-headed Parrot, Red-lored Parrot and Mealy Parrot followed by the Keel-billed Toucan, all sitting in the top of the forest canopy. Then we traveled to Old Gamboa Road where our first bird was the Collard Forest-Falcon. Along that old road we found Dusky Antbird, Black-faced Antthrush, Lesser Kiskadee, Black-crowned Tityra, Plain Wren, Red-crowned Ant-Tanager, Crimson-backed Tanager, Streaked Saltator, and Scarlet-rumped Cacique. But the best bird was two Spectacled Owls sitting side by side under the forest canopy. As we went by Summit Pong, we also saw Boad-billed Heron. There were other excellent birds as well. We finished the afternoon by seeing a Lineated Woodpecker and the Great Potoo.

It was great to be away from the snow and cold and come to a sunny, warm place for some excellent birding.

We also saw two sloth species, opossum, and three different monkey species.
---
New Utah County Birders Officers
Most of the UCB officers positions are two year terms. We'd like to thank Merrill Webb for his great job as UCB President over the last two years. He has been very much appreciated. Ned Hill has accepted the invitation to become the president of Utah County Birders for a two-year term starting this month. We have not yet replaced any other UCB officers. If you would like to volunteer your services please contact any of the UCB Officers. You can contact all officers by sending an email to officers@utahbirds.org. Here are the current officers. We may also be looking at adding more job titles to this list -
President - Merrill Webb - 224-6113
Past Pres - Alton Thygerson - 377-3300
Sec.-Treas - Carol Jean Nelson - 362-8288
Field Trips - Lu Giddings - 423-1682
Programs - Tom Williams - 374-0436
Meeting Bird of Month - Landon Jones - 375-1176
Newsletter Bird of Month - Tuula Rose - 377-5477
Publicity - Larry Draper - 375-4871
Webmaster - Milt Moody - 373-2795
Newsletter - Eric Huish - 360-8777
---
Ned Hill, along with Robin Tuck, Merrill Webb and others, helped found Utah County Birders in the early 1990's. He has served in several capacities in the organization--most often as field trip coordinator especially for longer birding adventures. He led a group of Utah County Birders to Australia one year and organized closer trips to Northern California, Southeastern Arizona and Lytle Ranch.

Ned began birding in Bountiful, Utah, when he was 10 years old--inspired by seeing a large flock of pelicans on the edge of the Great Salt Lake. They rose together creating the sound of a jet engine. He was awed--and he was hooked on birding. He bought an $8 pair of binoculars (each eye piece focused separately!) from a pawn shop and a Little Golden Book of Birds. The book pictured mostly eastern birds and Ned did not realize that birds in the West are not the same as those in the East. He thus recorded on his first list birds that have never been seen in Utah before nor since!

Ned studied chemistry at the University of Utah, served as a missionary in Germany for two years, and then went on to receive a masters in Organic Chemistry at Cornell University in Ithaca, New York. His graduate work was interrupted by the draft. After serving as a chemist for two years in Dugway, Utah he returned to graduate school at Cornell. But Dugway inspired him to get out of chemistry--he changed fields to Finance. After receiving his PhD in 1976 he taught at Cornell for a year and then taught at Indiana University for ten years. He, his wife Claralyn, and their 5 children moved to Provo in 1987 where Ned joined the faculty in the Marriott School of Management at BYU.

When they arrived in Utah, they looked up a person named Merrill Webb whom they found was the compiler of the Provo Christmas Bird Count. The whole family took Merrill's evening class on birding taught at UVCC (before it was UVSC and now UVU) and went with him on field trips on Saturdays. All the Hills are now, more or less, avid birders. Ned and usually some of his family have participated in most of the Provo CBC's and also many CBC's in Zions National Park and St. George since 1987.

For the past 10 years, Ned served as dean of the Marriott School of Management and for two years before that he was Assistant to the President at BYU. These assignments have caused him to travel to about 55 countries to find students, meet with alumni, speak to professional groups, etc. He always takes his binoculars and sometimes gets to bird a bit in between meetings. He has also been on several adventures devoted exclusively to birding: Attu, Alaska; Costa Rica (with UCB and the Shirleys); Australia; Peru; Brazil; and, in November, Ecuador. Many of his birding adventures have been presented to Utah County Birders and other groups; and some have been written up in serial form in UCB Newsletters.

Ned takes great joy in seeing many of their 15 grandchildren taking an interest in birds. A common birthday gift for a 6- or 7-year-old grandchild is a pair of binoculars and a field guide. A three-year-old grandson went to the eye doctor one day. The nurse showed him a bird image to test his vision. "What do you see, Isaac?" the nurse said. "A robin," Isaac answered. "Oh, is that your favorite bird?" "No, my favorite is a Lazuli Bunting!" The nurse was astounded. Grandpa was highly pleased.

With all of his travel, his life list in North America is over 700 and his world list is over 2,300. Now that he has completed his administrative duties at BYU and has returned to the faculty, he looks forward to having more time to become involved with Utah County Birders.
---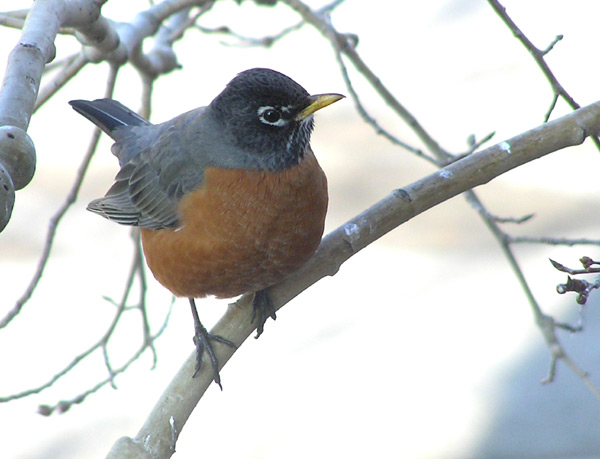 American Robin - photo by Eric Huish
Turdus migratorius
by Eric Huish

Here in the United States the American Robin is the ultimate backyard bird. The first bird a child learns to name is a Robin. People who have no interest in nature can identify a robin. When you think of a bird nest most people picture a robin's nest. The classic image of a parent bird feeding young is the image of a backyard robin. When you sit out on the porch in the summertime you watch the robin hunting on the lawn. When you sleep with the bedroom window open in the springtime the song of a robin will wake you at dawn. They are in the yard, in the park, in the mountains, in the city, down by the lake, out in the pastures, everywhere.

A birder should know what one looks like, right? Several years ago I was surprised to learn I didn't. I had a poor view of a thrush sized bird in the brush with white markings on it's face and a white breast with spots. When it flew out all I noticed were red underwing linings. I searched through all my field guides. None of them showed the underwings of a robin (This was before the Sibley Guide) but my National Geographic guide showed the underwings of the Redwing, a European bird that is seldom seen in the US. I watched the sky for weeks waiting for a robin to fly over so I could see its underwings. Robins fly over you every day until you want them to, then they are nowhere to be found. I guess when a bird is so easy to identify we don't pay attention to the details. Now when robins fly over I notice the orange-red underwings.

American Robins do much of their foraging on open sparsely vegetated ground for earthworms and insects, mostly in the morning and evening when worms are near the surface. When I watch the robins on my lawn they pull out more grubs than worms. During the day and in fall and winter they will feed in trees on fruit. Robins build a cup nest made of grass, twigs and mud on a forked branch in a tree. Robins nest up to 3 times each year. Clutch size is usually 3 or 4 blue eggs. Young are born naked, blind and helpless. Young grow fast and fledge in 13 days.

This spring male robins will start fighting over the best territories in your yard, they may even fight the reflection in your cars' mirrors. The females will show up and soon you will be able to watch all the details of the life of these wild birds in plain view your backyard.

---
by Yvonne Carter
Hmmmmm. You want to get away from this drab weather and go to sun spots like Florida? Be my guest! And be ready for a real treat for birders; especially between the months of Mid-November to March or Mid April. The state of Florida has published some wonderful birding trail maps; a set of four covering the East section, the Panhandle, Southern Florida, and West Florida. These maps are very extensive and give not only location but the best times to bird, facilities available, best time of day, which months are best, any entrance fees, even which spots are good for beginners. The state provides good signage along the roads as well. Go to www.FloridaBirdingTrail.com for more info.
But I would like to share with you a wonderful area that I think is just as good or better than Merritt Island which is well-recognized for a top "must" for birding. We call it the Viera Water Treatment Plant Marshes. This is not far from Orlando. It is fantastic for birding and alligator watching as well. Driving south on the I-95, exit to your right on the Wixom Road Exit which is in the northern edge of Melbourne. I think the exit number is 191. Head west for approximately two miles. On this road you will encounter a roundabout, just keep going straight or west. As the road appears to end (which it does), you will see to your left the water treatment plant, turn left into the facility and make a right turn in front of the buildings and as you head west again you will pass in front of a series of large garages for the vehicles at the plant. Keep going west and in about 200 feet you have arrived at the marshes. You will drive on a series of dikes which meander around small and large ponds. Enjoy and take your time. You will see so many varieties of herons, water fowl, shorebirds, falcons and caracaras, cormorants and anhinga, and other birds that live in the marshes. I could go on and on; and at this time of year you would see probably up to 75 or more species. I talked to an avid local birder who really covets this area and would sure like to keep it quiet but as we were visiting the area I saw a lot of out-of-state license plates. I understand that the gate is open from dawn to dusk.
Another spot is in the same area and is not well-publicized. As the road ends where one would turn into the treatment plant, turn to the right instead and go down a straight dirt road which leads you to more marshes and a delta and the river. This area has large wooded areas besides the marshes and river habitat and you will also find here a large number of species.
Oh how I wish I could pack a bag , grab the bird-watching gear and hop a plane right now!
---