Costa Rican Birding Adventure
by Ned C. Hill
This is a story of a birding adventure taken by ten Utah County Birders to Costa Rica, March 6-16, 2003,
where they saw over 300 species. Bryan and Dennis Shirley were the trip leaders.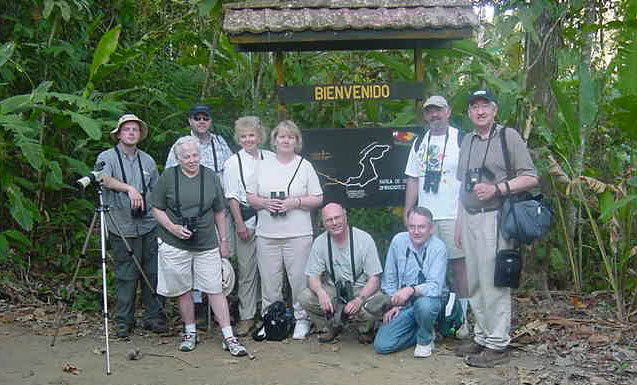 Bryan, LeIla, Scott, Carol Jean, Tuula, Alton, Tom, Milt, Ned (Dennis shot the photo)

Part One: Pacific Slope
Part Two: The Monteverde Cloud Forest
Part Three: The Arenal Volcano Area
Part Four: Selva Verde and La Selva
Part Five: Poas Volcano Area

Costa Rica
Where else …
n

Could you see 10 lifers in about 30 seconds?

Do they have more species of birds than all of North

America in an area half the size of Utah?

Could you drive a few miles over the continental divide and

find a whole different world of flora and fauna?

Can you hope to see 27 hummingbirds, 22 tanagers, 9

woodpeckers, 13 woodcreepers, 4 trogons, 12 wrens and 2 toucans in little over a week?

n

Can you see 300 species of birds in 9 days in a very pleasant,

friendly environment?
Copyright 2003 © Ned C. Hill – All Rights Reserved
The photographs in this article can be used only with permission of the photographers.